A Bus Trip Along Australia's Stuart Hiway
Two weeks after crossing Russia from Moscow to Vladivostok, I transversed Australia by bus, slicing the continent up the middle, south to north, from Adelaide to Darwin on the Stuart Highway, named for the intrepid explorer who first charted the route in 1862.  I wanted to see Ayres Rock/Uluru, the flat sacred mountain/hill in the middle of the continent, and a jumping off point is Alice Springs, midway along the 1500 mile passage.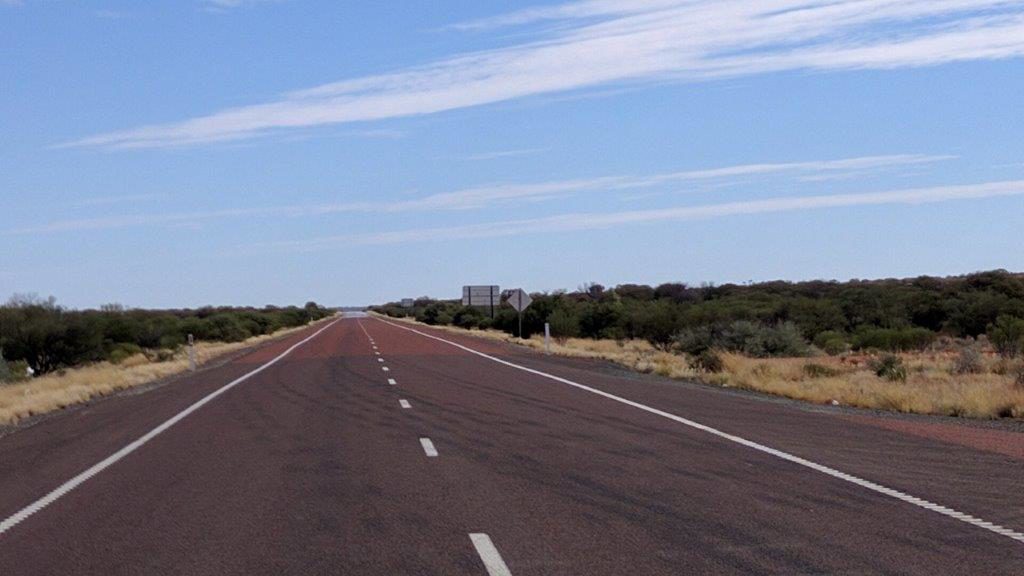 The Stuart Hiway stretches north from Adelaide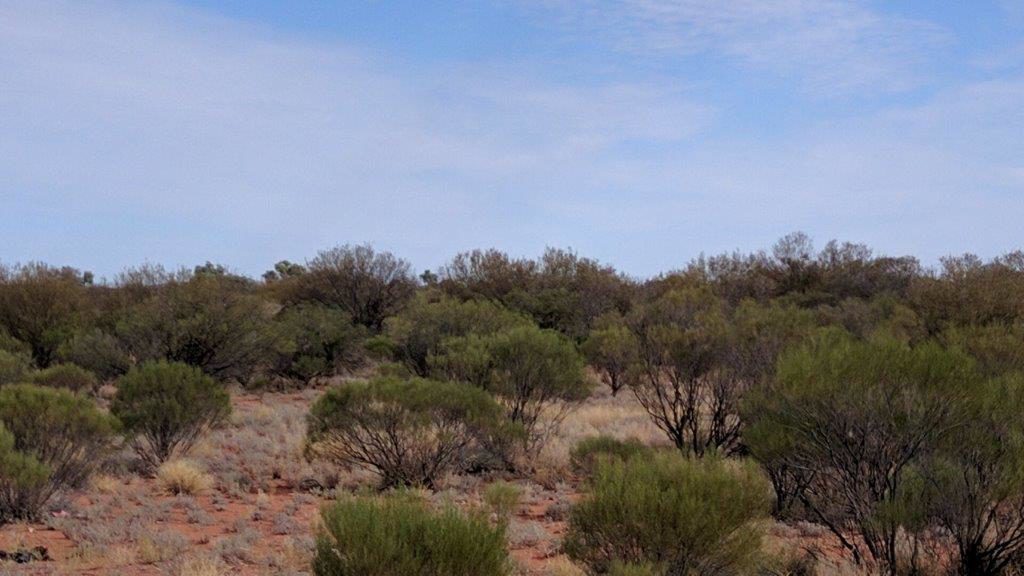 The passing landscape
There are direct flights to Uluru, but I was curious about the countryside and the rail line has been taken over by the ultra posh (and costly) "Ghan" which has discontinued lower class service. So after the 26 hour flight from New York City to Sydney via Los Angeles, I kept flying another couple hours onward to Adelaide where I would catch the efficient Greyhound bus headed north.
Arriving in Adelaide midday, it was no trouble to take public transport into the city's central transportation terminal and I had enough extra time to spend a few hours revisiting downtown spots I remembered from my stay there two years ago.  One of my favorite cities on the planet, Adelaide straddles the Torrens River, a charming blend of old and new.  Elaborate Victorian buildings alternate with modest skyscrapers, a charming downtown university abuts the picturesque Botanic Garden, and guests can visit the mid-19th century house of premier Henry Ayers, English namesake of the Rock before its title was transferred back to the original Aboriginal name Uluru.  For shoppers, there is an IKEA on the outskirts, but instead of abandoning the central city, the main street has been converted into pedestrian "Rundle Mall" bustling with shops and arcades, street performers and statues.  In addition, a few blocks south there's an indoor food market jammed with booths and stalls selling fresh fish, fruits, and vegetables and surrounded by cafes selling every possible flavor of ethnic food.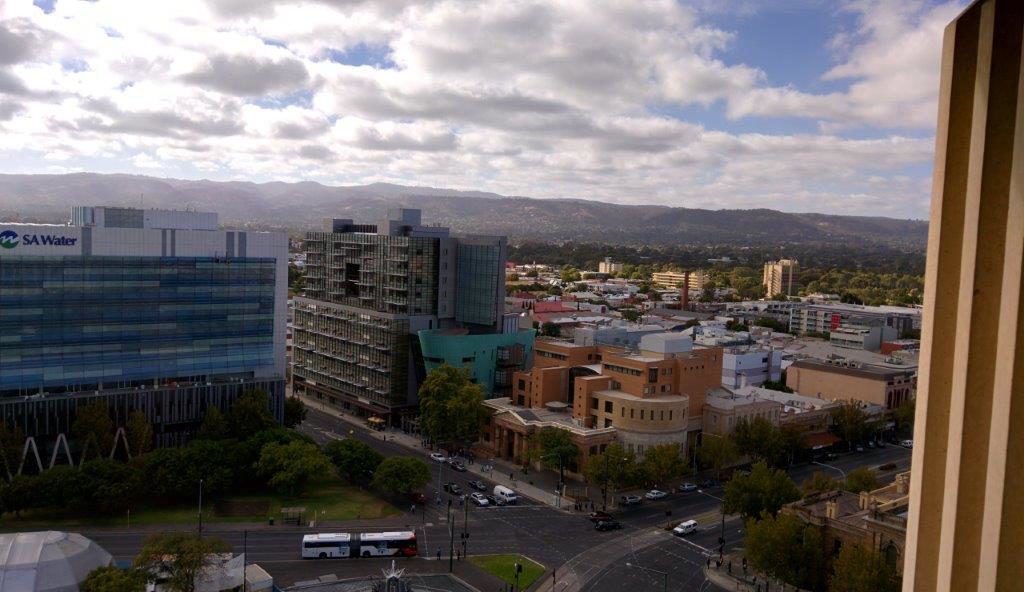 View of Adelaide from Victoria Square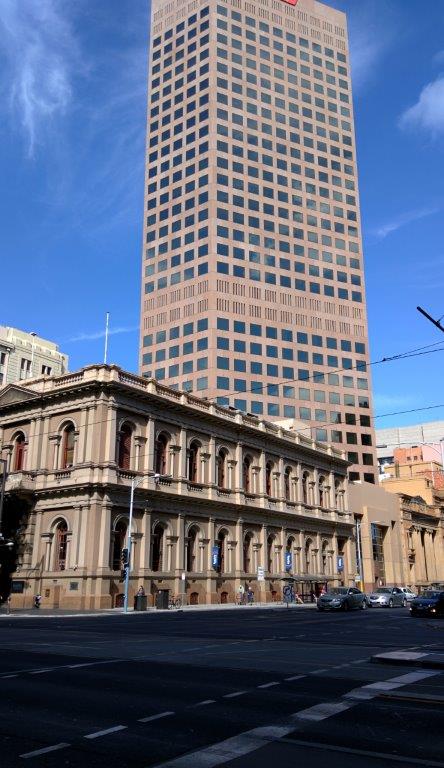 Blend of old and new in Adelaide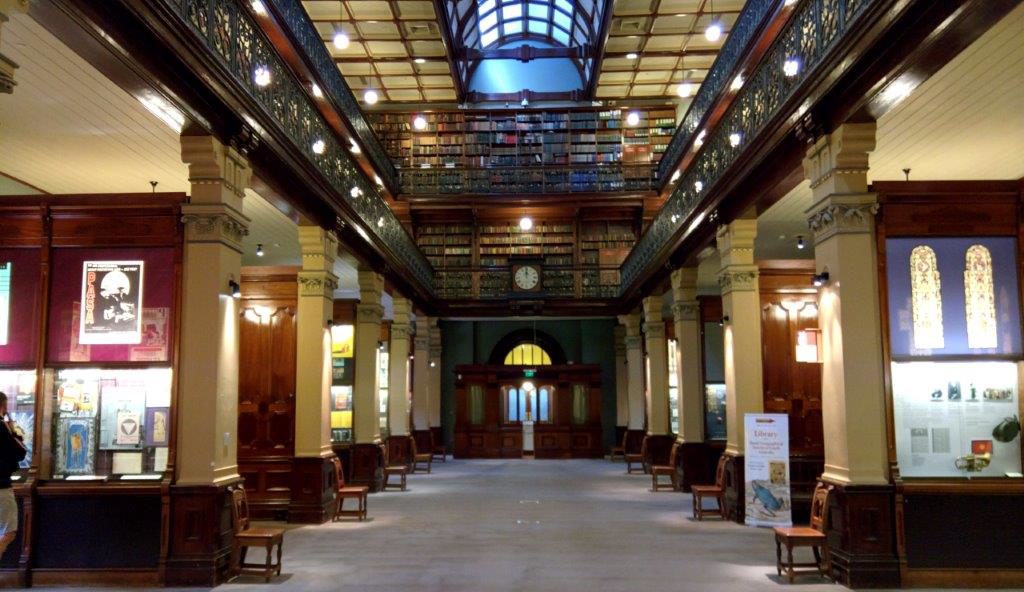 Adelaide's stately museum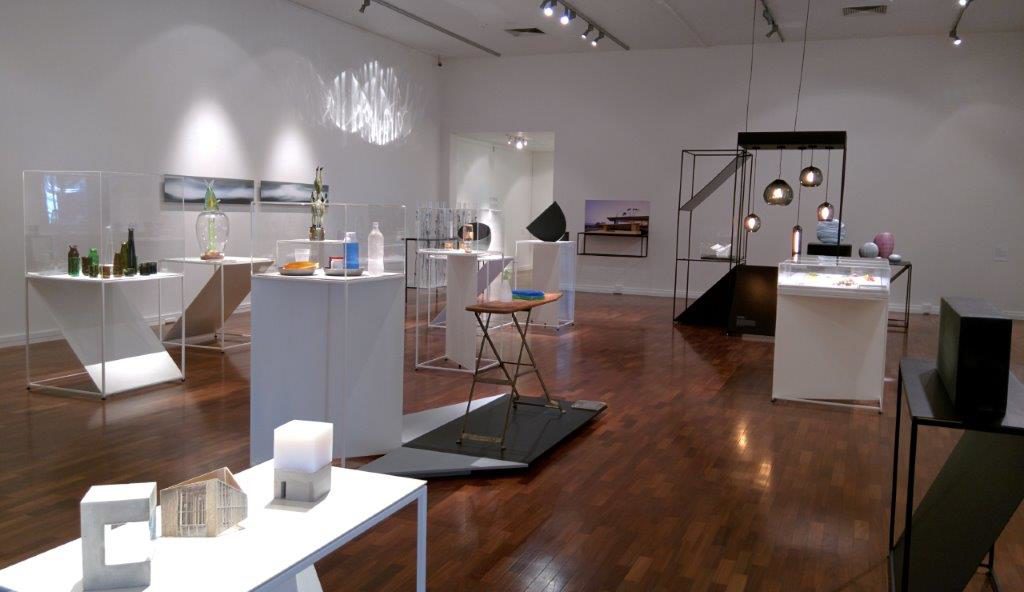 Contemporary craft shop in Adelaide
The Greyhound bus set off right on time at 6 pm for the 22-hour drive to Alice Springs.  Regretfully it was too dark to view any of the landscape, but after more than a full day in flight I was ready to doze, rousing myself at one stop to eat a sandwich but then falling back to sleep until 4 am.  Still too dark to see the surroundings I strained to read the cautionary passing road signs FATIGUE IS FATAL, DROWSY DRIVERS DIE, REVIVE AND LIVE and watched as we made occasional stops for the driver to get out with his flashlight and keys to open a roadside mail box and deliver big white canvas knapsacks full of envelopes and packages.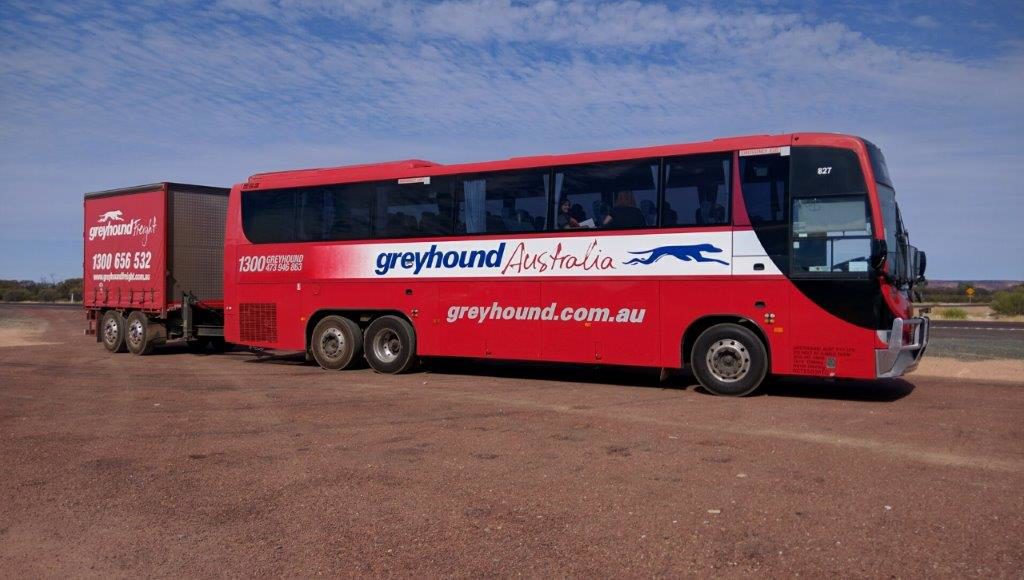 The Greyhound bus with mail and baggage trailer attached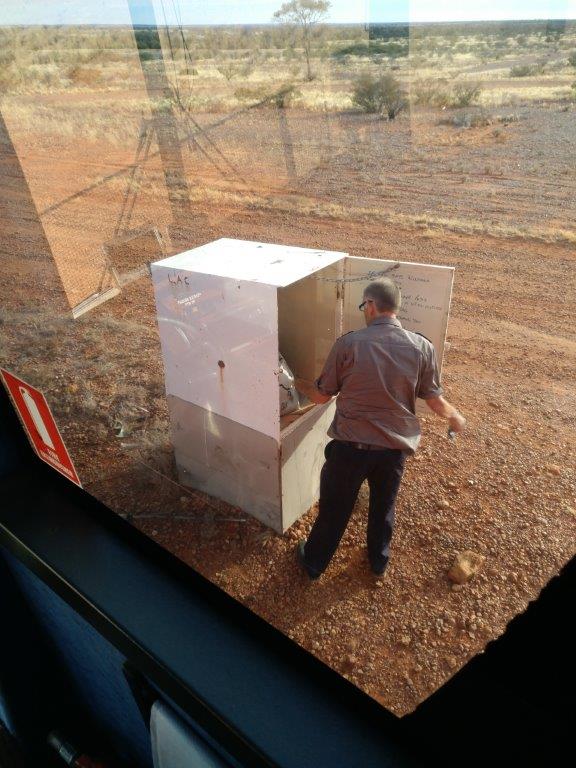 The bus driver makes a mail drop
After a glorious 6 am orange and saffron sunrise it got light enough for me to see the terrain, endless stretches of ultra flat plains covered with waving honey colored grass and dotted with desert oak trees.  There are copper mines nearby, the ground is bright rusty red sand, even the highway is permeated with it, making the trip a kind of red carpet experience.  We crossed cattle grids and signs warning to beware of animals on the road and seat belts were required to counter the possibility of sudden stops, but the only animals we saw were cattle. I was disappointed not to spot a single kangaroo.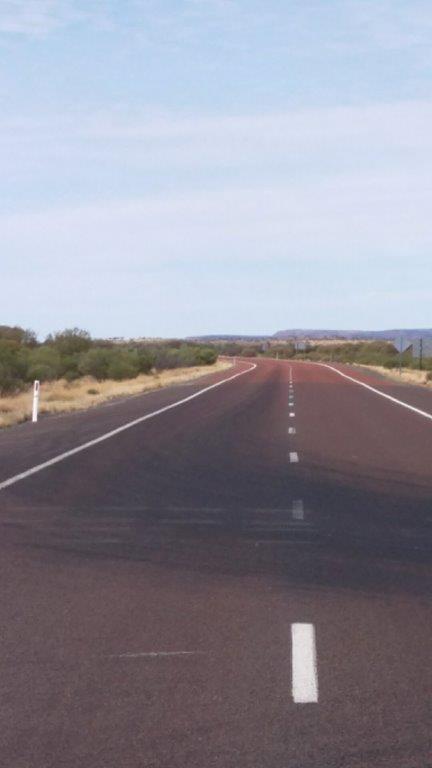 The red carpet roadway 
Every two to four hours we took a 10-45 minute break at a roadside gas station/café to purchase sandwiches, local meat pies, fabulous Magnum ice cream bars — sea salt, caramel, red velvet, peppermint, white chocolate.  Internet outlets on the bus made it possible to keep my computer charged so I could write along the way and when we passed through towns, the Greyhound wifi signal was boosted so I could keep up with email.
As we neared Alice Springs attractions at the road stops featured a mini "zoo" of emus and a farm offering rides on camels, descendants of the dromedaries brought over in the 1800's by Afghan herders to serve as supply line caravans before railroads and bus lines were established.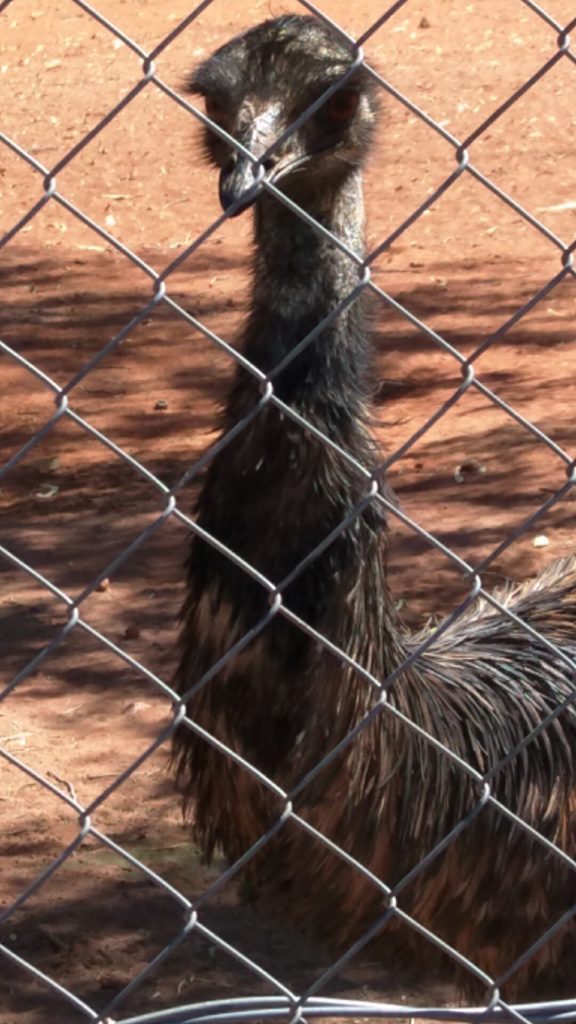 Emu at a roadside zoo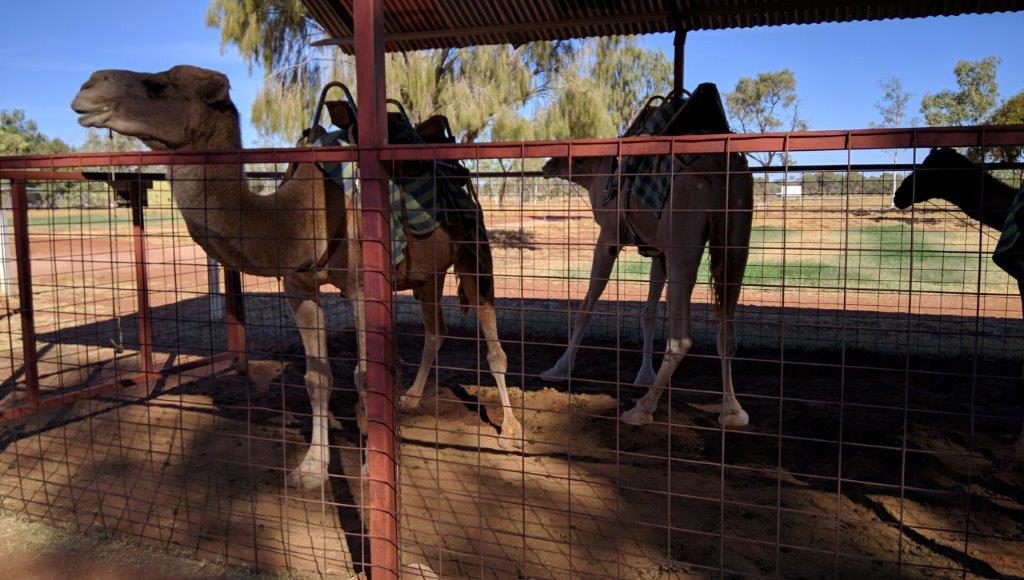 Camels at a roadside stop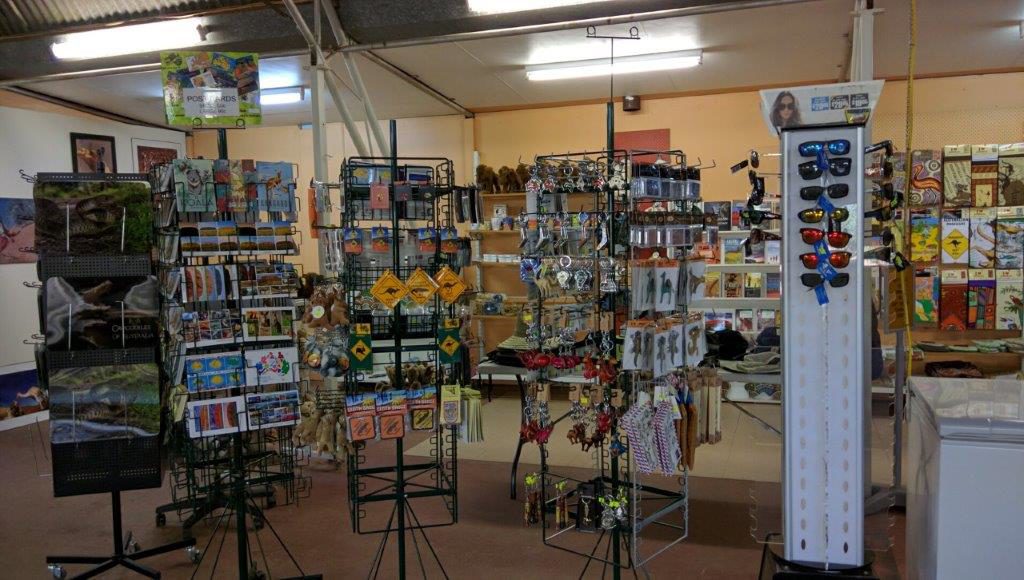 Souvenirs on sale at a roadside stop
Defying my expectations that it would be a few shacks huddled hear Uluru, Alice Springs turned out to be a leafy little town with two big shopping centers, a central mall of specialty shops, several museums.  Historic markers along the streets pointed out the Residency where visiting royalty have stayed and a central garden follows an Aboriginal design and commemorates the Afghan camel herders.  Uluru is a few hours drive away to the southwest.  I'd signed on for a three-day tour to visit it and the nearby sites Kata Tjuda National Park and Kings Canyon.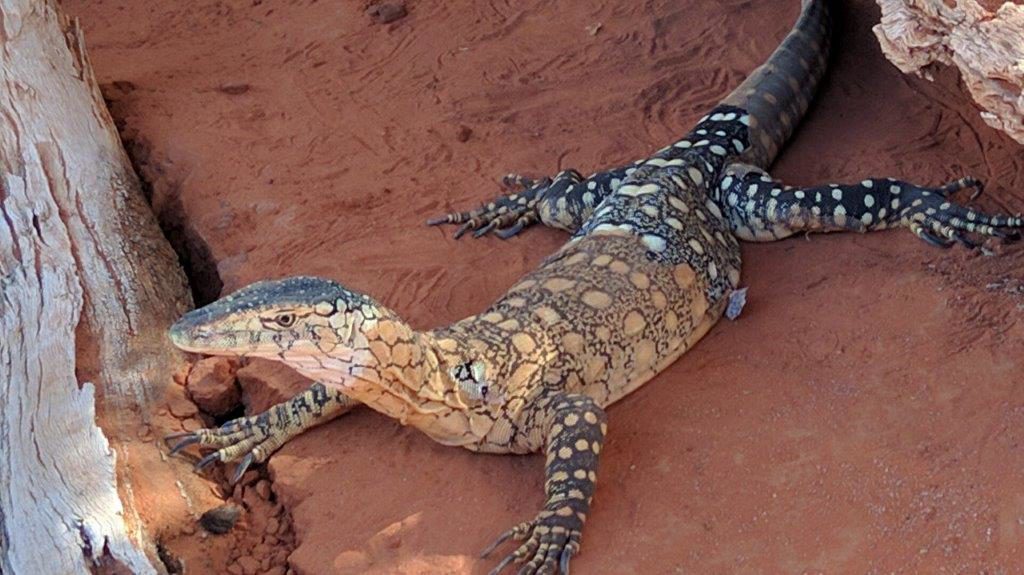 Alert lizard in the Alice Springs Reptile Center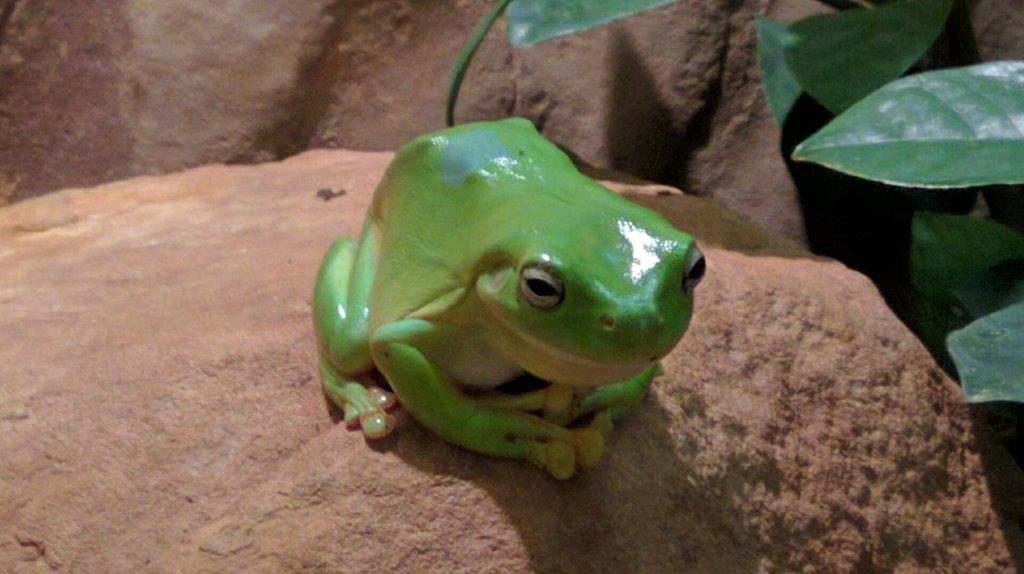 Bright green frog in the Reptile Center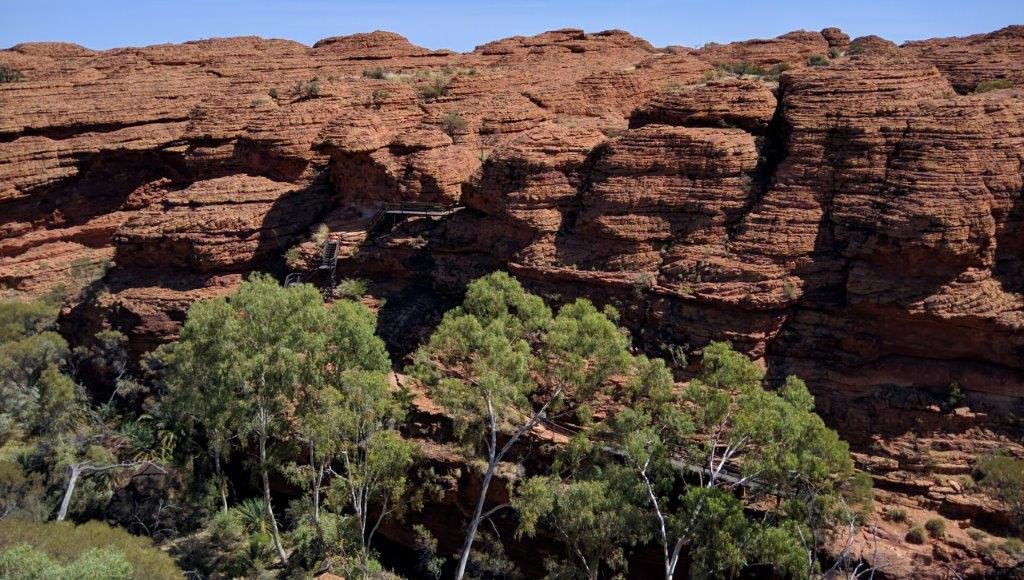 Kings Canyon –the Grand Canyon of Australia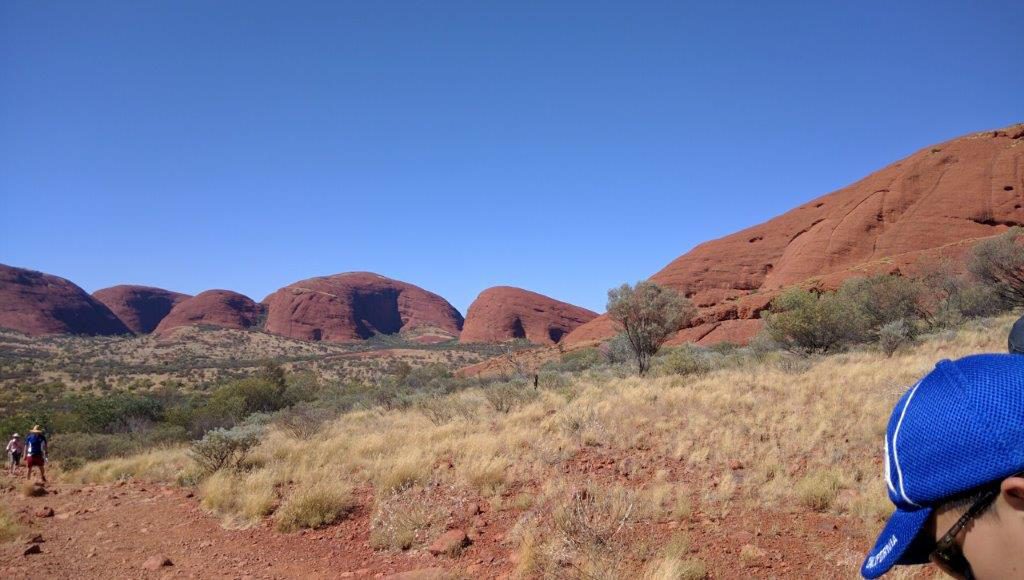 Domes of Kata Tjuda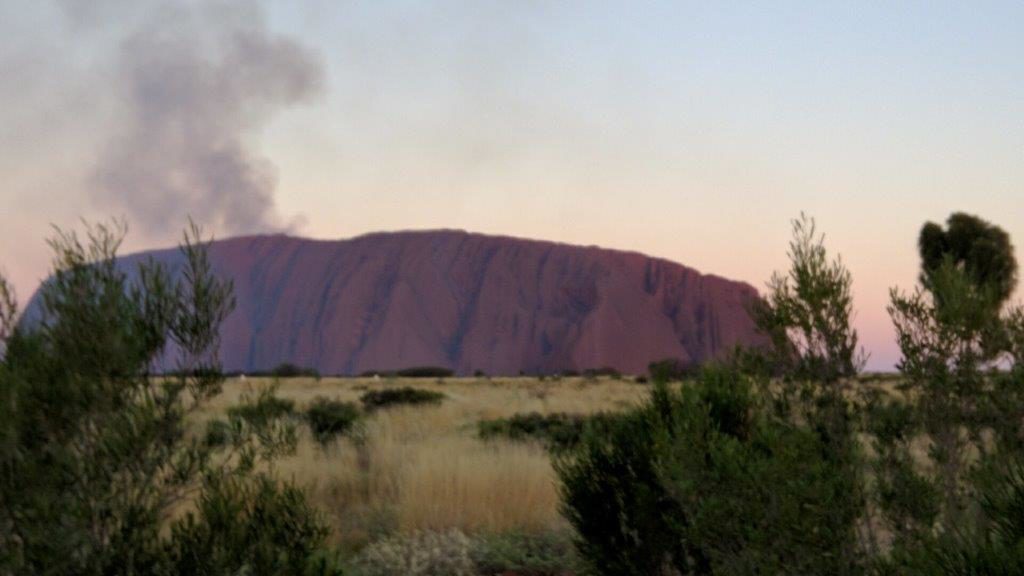 Uluru — the Rock
Returning to Alice Springs after the Uluru excursions, it was back on the bus for another 23 hours.  North from Alice, the landscape becomes more lush.  By the time we got to Katherine, Pine Creek, Adelaide River the grass was green among plentiful trees, and there were tourists visiting the nearby hot springs, canyons, waterfalls.  At Katherine I snapped a picture of the statue dedicated to the outback settlers and I ducked into the Adelaide River Inn to admire the stuffed remains of Charlie, the "movie star" bull from "Crocodile Dundee."  We pulled into Darwin just at dusk, concluding a long eventful voyage.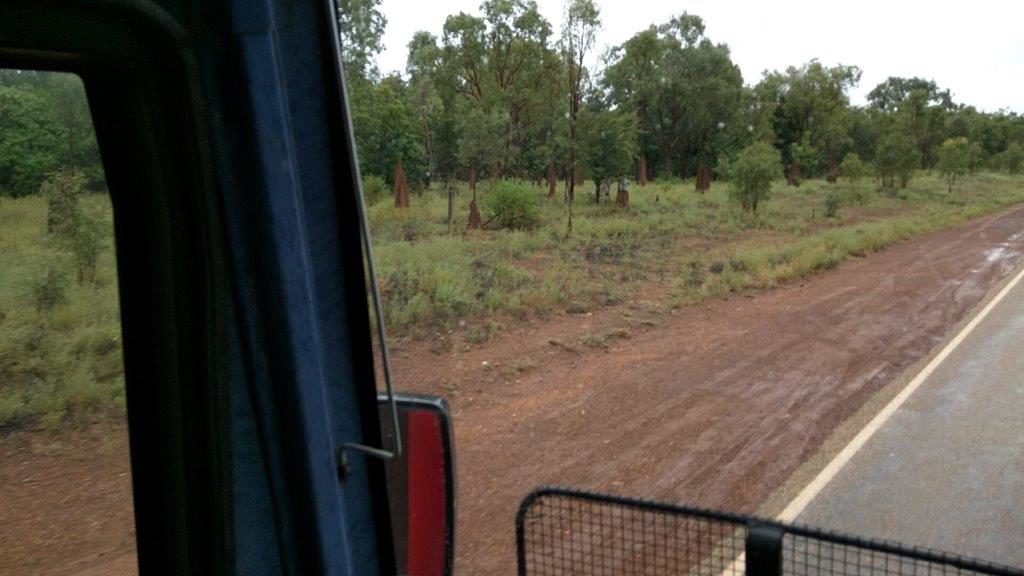 Greener landscape near Darwin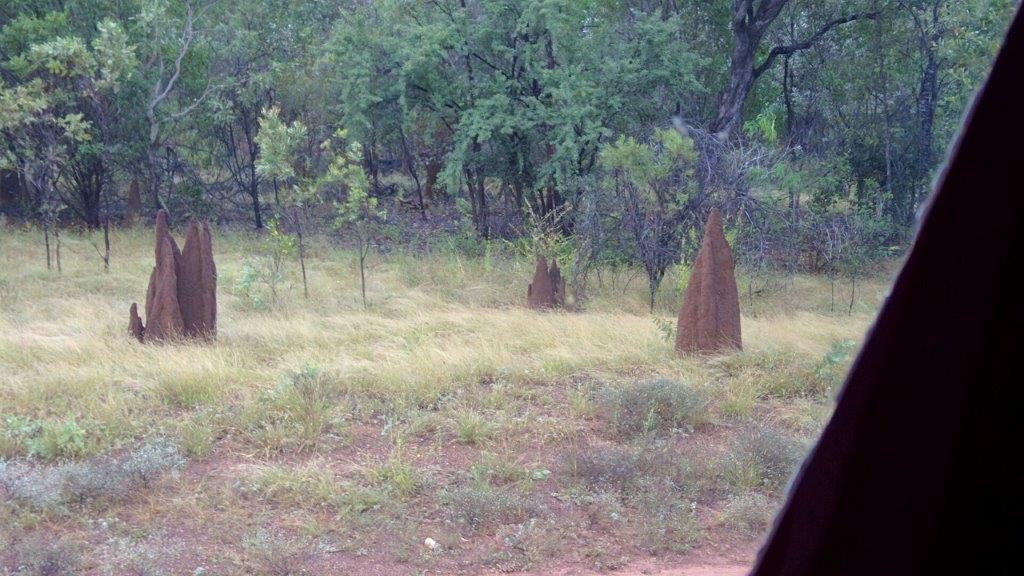 Pyramid termite mounds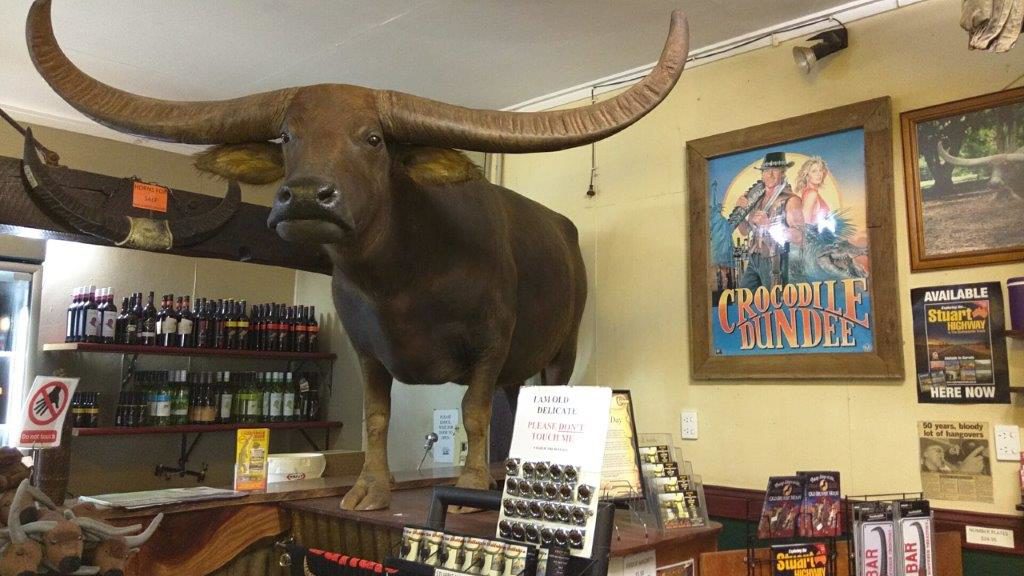 Crocodile Dundee's Charlie the Bull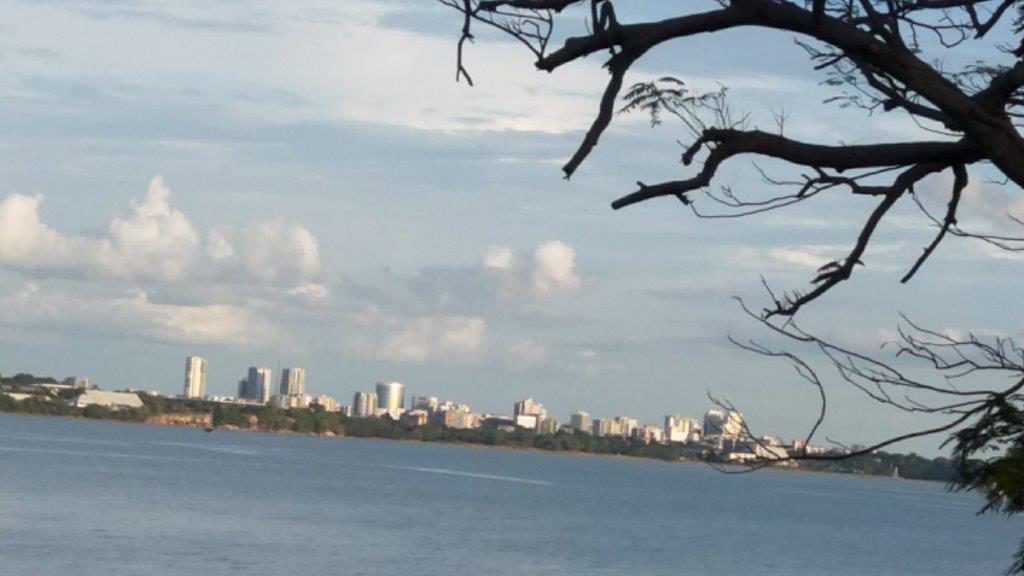 View of Darwin from East Point